Date: Friday 30th November
PLEASE SUPPORT THE PARISH CHRISTMAS BAZAAR ON SUNDAY THE 2ND DECEMBER.
TICKETS FOR THE CHRISTMAS PRODUCTION WILL BE AVAILABLE FROM MONDAY 3RD DECEMBER. ALLOCATION IS 2 TICKETS PER CHILD FOR ONE PERFORMANCE ONLY. WE WILL ALSO HAVE A WAITING LIST FOR PARENTS WHO REQUIRE EXTRA TICKETS.
YEAR 5'S WORLD WAR II ASSEMBLY:
Today, Year 5 showcased to the whole school and to their parents all they have learnt about World War II. They highlighted the impact it had on children in Britain and focused on their lives as evacuees. Everyone was so impressed with their acting, artwork and singing - and it was a delight to see their enthusiasm for sharing their learning in such an entertaining way. They are a credit to our school.
"We all learnt something new about WWII" - Gracie
"I thought the play was exciting and fun to watch." - Mia
"I thought the play was interesting and I learnt lots from it." - Lottie
"I enjoyed singing the songs." - Molly
"Everyone played their roles perfectly and we learnt a lot from it." - Gianni
"I'm proud of my class." - Max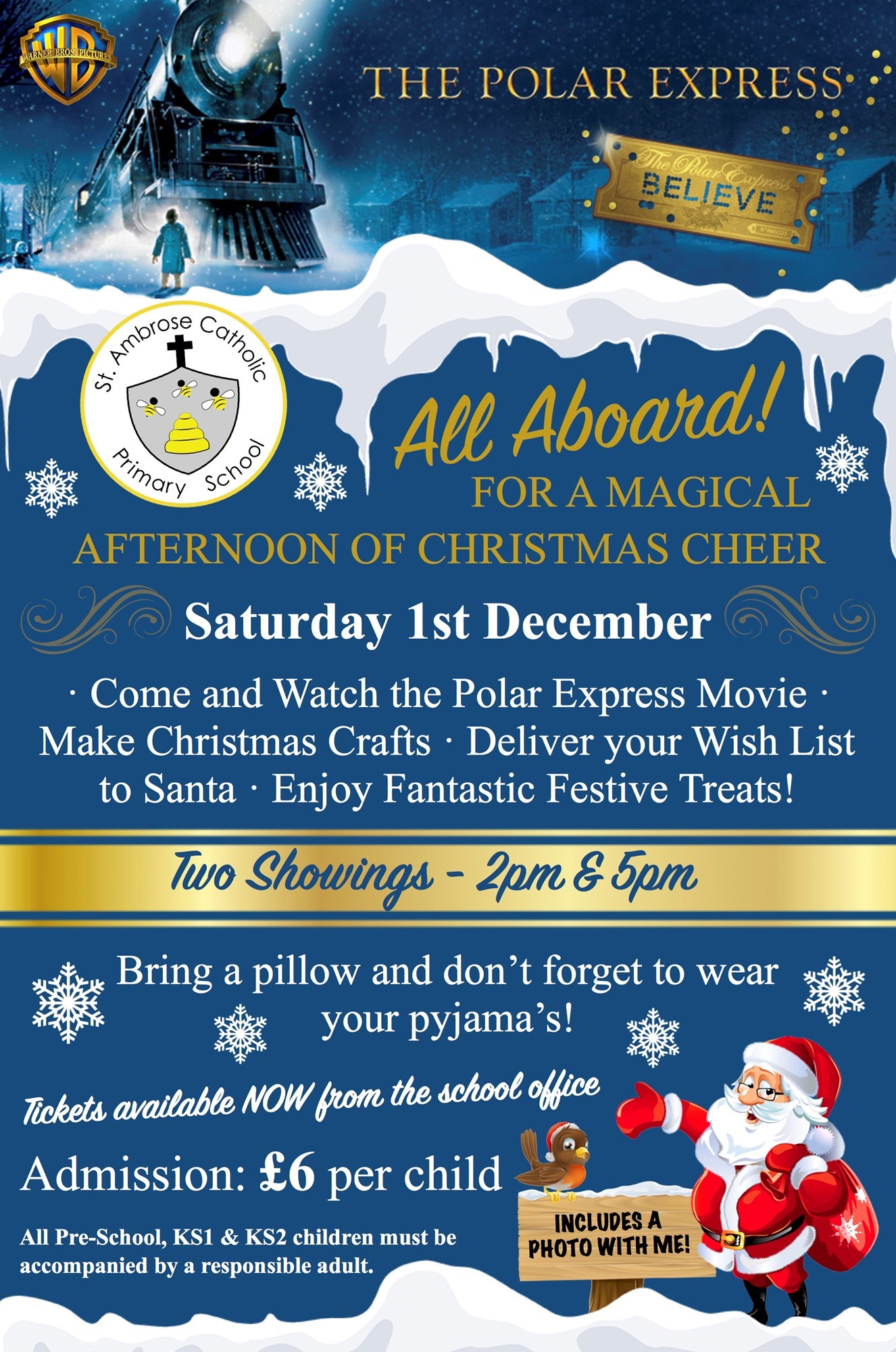 We look forward to seeing you on Saturday the 1st December for the Polar Express Event that we have all been waiting for. The gates will open 30 minutes before each showing. Please arrive in plenty of time to get your child settled. Just a reminder that the showings are 2pm and 5pm. A huge thank you to those of you who have volunteered to assist us for the session(s). It wouldn't be possible without you all.
HALF PRICE THANK YOU BOOK FAIR:
In the lead up to Christmas, as a thank you for all your support with previous book fairs and for supporting the PTA to raise money for home school reading books, I have arranged for a half price book fair to be held in school the first week in December (3rd-6th December). Please come along and purchase some great books to encourage your child(ren) to have a love of reading and to help raise more funds for school to help with our ongoing library fund. Thank you.
CAROLS ON THE PLAYGROUND:
We would like to invite you to sing Christmas Carols on the playground with our School Choir and Bell Plates along with the children from Key Stage 2 on Friday 14th December at 3pm. Hot chocolate, mince pies and tuck shop treats will be available to purchase. We look forward to seeing you there! 
On Tuesday 4th December our Year 6 children will be celebrating the next step in their Sacramental journey when they are confirmed in church at 7pm by Archbishop Longley. Well done to them all for their hard work in preparation over the last few weeks and thank you parents for all your support. Please remember the children in your prayers.
YEAR 1 AND YEAR 2 SCHOOL TRIP:
Please can you bring in any outstanding consent forms and payment for the Year 1 and Year 2 school trip. The deadline is Wednesday 5th December so in order to secure your child's place on the trip please bring into school ASAP. Many thanks.
RECEPTION - YEAR 5 FLU VACCINATIONS:
Please can you ensure that you fill in and return the flu vaccination forms, regardless of whether you would like your child to receive it or not, before Tuesday 4th December.
On Friday 7th December, Mass will be celebrated in the School Hall at 9.30am in honour of our school's patron saint. Please join us to commemorate this special occasion.
Mrs Price holds a drop in session from 2-3pm every Thursday afternoon. Please remember appointments on a 1-1 basis can be arranged with Mrs Price for any Thursday or Friday.
The Parish 200 club is a major fundraiser for the Parish to help support the running of the Parish. Members contribute £2 a month (£24 a year) and there will be monthly drawers for cash prizes. Application forms for new members will be avaliable from the School Office next week. 
This months draw will take place during Monday morning assembly in school.
PLEASE CAN WE ASK THAT YOU DO NOT USE THE CAR PARK AT DROP OFF AND PICK UP TIMES AS IT IS DANGEROUS AT THESE BUSY TIMES.
Sacraments:
| | |
| --- | --- |
| 4th December | Y6 Confirmation 7pm |
Other Events:
| | |
| --- | --- |
| DATE | EVENT |
| 17th December | KS1 Nativity Dress rehearsal pm |
| 18th December | KS1 Nativity 2pm |
| 19th December | KS1 Nativity 9:30am |
| 20th December | Parish and KS2 Carol Concert 7pm |
| | | |
| --- | --- | --- |
| Year Group | This Week | This Term |
| Whole School | 93.9% | 95.6% |
| Reception | 90.4% | 94.5% |
| Year 1 | 93.3% | 95.7% |
| Year 2 | 94.0% | 96.0% |
| Year 3 | 95.4% | 95.9% |
| Year 4 | 92.4% | 95.5% |
| Year 5 | 95.2% | 95.5% |
| Year 6 | 96.7% | 95.8% |
Well Done to everyone who received a certificate this week.
We have places available in Reception, Year 3 & Year 5. If you know of anyone who would be interested please refer them to the school office in the first instance. Many thanks.
PARISH BABY AND TODDLER GROUP:
If you or anyone you know would be interested in going along to the Parish Baby and Toddler group, the sessions are held on a Wednesday from 9-11am. We welcome newborn up to pre-school children and their parents. Your first session will be free of charge and thereafter will be 80p. This cost includes refreshments for you and your child. They have an array of toys and activities for you and your child to enjoy and this is also a great opportunity to meet and socilaise with other families. If you have any enquiries please see the Facebook page 'St Ambrose Toddlers Kidderminster'.
SEVERN ARTS MUSIC LESSONS:
Saturday 11:45am - 12:45pm, and by request.
Stars of the Week
Diary Dates
Attendance
Class Assemblies