COLLECTIVE WORSHIP OPPORTUNITY
Throughout the school day, children have opportunities to pray together - a dedicated time to grow closer to God. Praying collectively takes a variety of forms, for example: children may gather in the school hall for a liturgy, pray together as a class with their class teacher, or pray as a small group amongst themselves. Collective worship happens at various times too, from the beginning to the end of the school day.
This half term from Friday 9th February, Year 2 and Year 4 classes are inviting their parents to join them for their prayers at the end of the school day on a Friday. This is not to mark a particular feast or season e.g. season of Lent, but to provide a further opportunity for us to gather and pray together as a school community.
Year 2 Friday 2.55pm - 3:05pm Year 4 Friday 3:00pm - 3:10pm
It is essential that children regularly attend school, poor attendance has a serious and long lasting impact on your child. To promote and encourage good attendance we publish weekly attendance figures and Hilary Maxwell who is our Education Welfare Officer will be supporting us.
Our school target is 96% please help us to achieve this by bringing your child into school every day.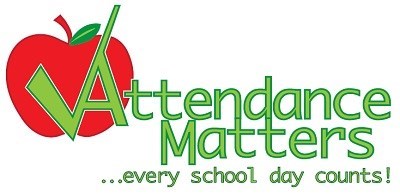 | | |
| --- | --- |
| Year Group | Attendance for this week |
| Whole School | 95.1% |
| Reception | 95.0% |
| Year 1 | 97.7% |
| Year 2 | 98.1% |
| Year 3 | 92.9% |
| Year 4 | 98.6% |
| Year 5 | 93.7% |
| Year 6 | 89.6% |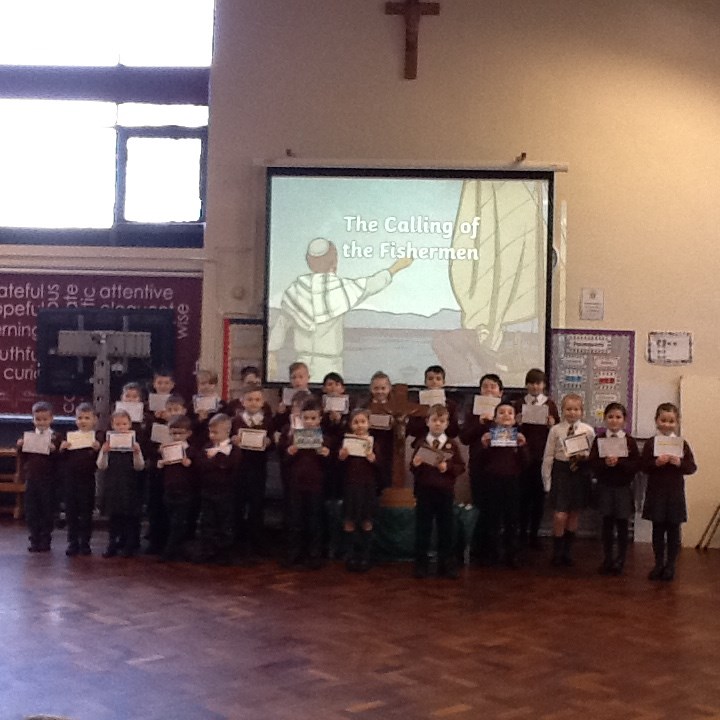 Thank you for joining us this week, if your son or daughter received a star award please remember we will inform you in three ways:
2. a slip from your child's class teacher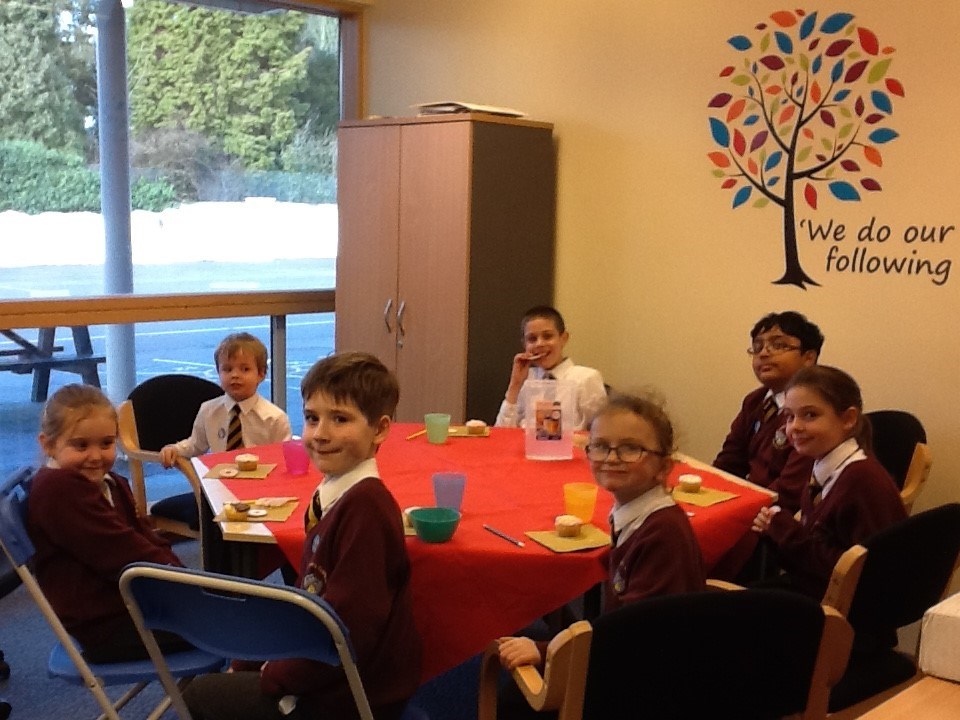 Today seven children were invited to attend 'afternoon tea'. The children talked about what they are learning and discussed how they have been 'active and curious' this week. This is a great way for me to promote good speaking and listening and also it creates a chance for the children to get to know their Principal better and vice versa. All this and more over a cup of juice and a cake!
PARENT ACADEMY REPRESNTATIVE
We are pleased to announce that Mrs Lisa Higgins has been elected as the new Parent Academy Representative on the School Academy Committee.
Many thanks to everyone who voted and the nominees for standing.
When children reach Year 6, they have the opportunity to become a Play Leader.
Play Leaders run lunch time games and activities in the playground for Years 3, 4 and 5 children. The initiative is designed to involve children in group games, to ensure playtimes are fun and enjoyable and develop skills in responsibility and leadership.
We currently have 17 Sports Leaders. In order to become a Sports Leader, children have to complete a training course led by Mr. Garvey.
Let's Get Physical & Learn to Write Workshop followed by a Chinese New Year Presentation by the Reception Children
Thursday 8th February 9am-11am
Miss Brewer is so proud of all the hard work that the children have produced, and thrilled that every child will have a parent attending the workshop, so she has decided to use the opportunity for the Reception Children to showcase their work straight after the workshop.
Come to this workshop and find out more about the link between your child's gross motor development, fine motor development and their writing skills.
During the workshop we will look in depth at four key aspects of motor development. We will explore some of the physical barriers that children may encounter and provide you with some practical solutions that are easy to implement at home. If regularly practiced, these tips and techniques can have a significant impact on your child's readiness for writing.
Catherine Collins in Year 1 has won a colouring competition that she entered for under 8's in the Far East Columbian Missionaries magazine-well done Catherine.
TIMES TABLES ROCKSTARS - YEARS 1-6
Your child will be coming home with their username and password for the new and exciting times table Rockstars if they are in Years1-6. We had an assembly this morning to look at the website and all of the children are keen to become Times Tables Rockstars!
Please find some more information below;
In either paper form or online, Times Tables Rock Stars is a carefully sequenced programme of daily times tables practice.
Each week concentrates on a different times table, with a recommended consolidation week for rehearsing the tables that have recently been practiced every third week or so.
This format has very successfully boosted times tables recall speed for hundreds of thousands of pupils over the last 7 years in over 4500 schools - both primary and secondary - worldwide.
https://ttrockstars.com/home
EXCITING MATHS EVENT FOR ALL PARENTS
Please put this date in your diary Monday March 5th 9am or 2.15pm-You will receive a letter next week to book a place.
All children from Reception to Year 6 will have a Maths Passport to keep in school. This document will accompany your child on their exciting journey through the world of mental maths. This important document shows your child the steps they need to take, as well as the direction they will travel on their learning journey and will track the progress they make as they develop their rapid recall of key number facts. At the meeting Mrs Sherwood will explain how you can support your son or daughter and after the meeting you will have the opportunity to visit classrooms.
We have now subscribed to Education City and every child has a username and a password to access the identified activity set by their teacher. Education City is an engaging web based tool that enhances learning and enables children to take their learning home so please support your son or daughter with HOME ACCESS. Mrs Holder will be leading an information session for parents about Education City on February 8th at 2.30pm.
Thank you to so many parents and children who attended the Pioneer trip meeting. I am not sure who is more excited, staff or children! Please remember to bring in your payment card and instalments to the school office when making a payment. The card will act as your receipt and proof of payment. Thank you to those parents who have already secured their child's place by paying the deposit and for those who haven't yet made payment can we kindly ask that you do so as soon as possible.
Also, can you please notify Miss Crumpler or the school office if your child will not be attending the Pioneer Centre. Many thanks.
The course to prepare the children in Year 3 to receive their First Holy Communion, on Saturday 9th June at 12 o'clock, begins on Wednesday 31st January at 6.30pm. The first meeting led by Father Lamb is for parents/carers and will be held at school. The dates of the preparation meetings will be handed to parents at this meeting. Please remember to return your slip to enable Father Lamb to answer any questions-many thanks.
SIMPLY LIMITLESS KIDDERMINSTER
Have you heard about the Simply Limitless Wellbeing Centre positioned in a quiet location in Puxton Lane by the River Stour in Kidderminster. It invites everyone to join in a whole host of free activities that are targeted for your optimum health and wellbeing. A warm welcome is given to all! Please take a look at their website and look at the flyers attached to the newsletter. THEY REALLY DO HAVE SOMETHING FOR EVERYONE.
http://www.simply-limitless.org/
If you would like tickets for the Schools of Rock Pyramid Concert at the Birmingham Town Hall on Thursday 15th February at 7pm, please pop into the school office or email the school office at office@st-ambrose.worcs.sch.uk.
Also, if you own your own business or know anyone who does Mr Mallinson is selling advertising space in the programme. This is to help raise funds to pay for this event. Please speak to the school office in the first instance if you would be interested in using the advertising space.
I hope you have an enjoyable weekend.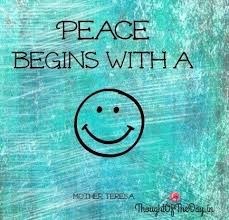 | | |
| --- | --- |
| HOUSE | HOUSEPOINTS |
| Ashley | 378 |
| Leveson | 318 |
| Oldcorne | 388 |
| Wall | 366 |
| | | |
| --- | --- | --- |
| Monday | Y5 & Y6 Football | 3.10 - 4.10pm |
| Monday | Y5 & Y6 Netball | 3.10 - 4.10pm |
| Tuesday | Y3 & Y4 Football | 3.10 - 4.10pm |
| Tuesday | Y3 & Y4 Netball | 3.10 - 4.15pm |
| Friday | Mad Science | 3.10 - 4pm |
MAD SCIENCE IS NOT ON THIS AFTERNOON - 26TH JANUARY. THE EXTRA SESSION WILL NOW BE ON THE 9TH OF MARCH.
| | |
| --- | --- |
| YEAR GROUP | MESSAGE |
| WHOLE SCHOOL | PLEASE CAN WE ASK THAT YOU NOTIFY THE SCHOOL IF YOUR CHILD IS OFF FOR ANY REASON. ALSO WE NEED TO BE NOTIFIED IF SOMEONE ELSE WILL BE COLLECTING YOUR CHILD FROM SCHOOL. |
| RECEPTION | Talk homework is being sent home for this weekend. |
| | From Monday Reception children will be collected from their Reception gate at the end of the playground by the tyres. Children will then be dismissed from the gate when we can see you. The morning routine will remain the same with children coming in the usual way. |
| | Please can you ensure that your child has their p.e kit in with them every Monday and that earrings are removed or covered with plasters. |
| | Please keep sending in your child's WOW vouchers to celebrate anything positive that they do at home and also please read with your child 5 times a week. |
| | Please sign up to the 'Physical Development Workshop' on Thursday 8th February. |
| | Please can Reception children bring in a photo of their Baptism to be displayed for our current RE unit. |
| YEAR 1 | Please note that in addition to spellings and reading, children have topic homework. Please see the letter in their homework books for details. Any problems please let me know. Thanks. |
| YEAR 2 | Please can we remind you that your child needs to read 5 times a week and also they must practise their spellings and times tables. |
| YEAR 3 | Please can you ensure that your child's p.e kit is in school at all times. P.e. is on a Monday but we do have other games sessions planned for different days in the week. |
| YEAR 4 | Please encourage your child to complete all homework in their homework books before handing them in and that they have carefully read through their work checking for errors. |
| | Please can we remind you that children should be wearing black school show to school and NOT ankle boots. |
| | Please remember to use the Oxford Owl reading and the Times Tables Rock Stars logins at home to support your child's learning at school. |
| | Please ensure that p.e kits are in school on Mondays and swimming kits on Wednesdays. |
| YEAR 5 | We still have tickets available for the Hagley Pyramid Schools of Rock Concert. |
| YEAR 6 | Please can we remind you that your child needs to read 5 times a week and that homework must be completed and handed in on time. |
We have places available in Year 2, Year 3, Year 4 & Year 6. If you know of anyone who would be interested please refer them to the school office in the first instance. Many thanks.
All classes have been given login's for 'Oxford Owl', a website where they can read books online for free.
Please encourage your child to use this resource to read a wide range of books at home.
Saturday 11:45am - 12:45pm, and by request.
Mass will be led by Y6 on Wednesday 31st January. You are all welcome to join us.
Stars of the Week
Diary Dates
Attendance
Class Assemblies