Date: Friday 23rd November
PLEASE SUPPORT THE PARISH CHRISTMAS BAZAAR ON SUNDAY THE 2ND DECEMBER.
Today we had the pleasure of welcoming the "Chaddesley Clangers", the group of local bell ringers which Mrs Lloyd belongs to who have been playing since 2011. They play locally at fetes and nursing homes. Today they entertained the KS2 Children accompanied by our very own Bell Plates club. It was a wonderful afternoon of musical entertainment and dare I say, it put us all in the Christmas mood! A huge thank you to our visitors for sharing their expertise with our very own talented musicians. We look forward to future joint ventures. The children were all very excited at having completed their first Bell Plate rally! Well done to you all.
"It feels amazing and fun to play."
"You feel a real sense of power after you have played."
HALF PRICE THANK YOU BOOK FAIR:
In the lead up to Christmas, as a thank you for all your support with previous book fairs and for supporting the PTA to raise money for home school reading books, I have arranged for a half price book fair to be held in school the first week in December (3rd-6th December). Please come along and purchase some great books to encourage your child(ren) to have a love of reading and to help raise more funds for school to help with our ongoing library fund. Thank you.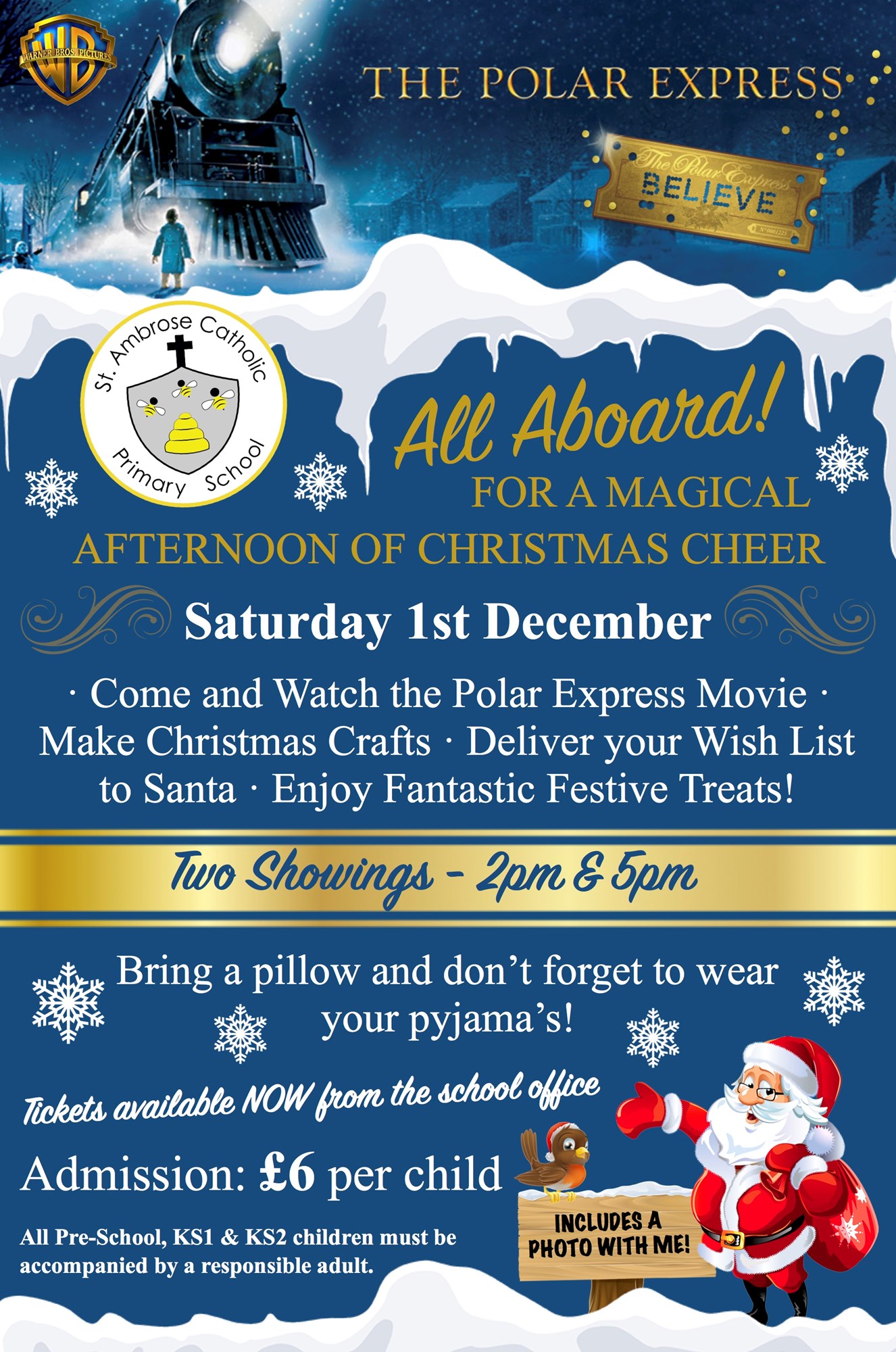 We are just over a week away from our Christmas Event so we just want to remind you to please buy your tickets from the school office; any remaining tickets will now be open for other people to purchase. We are very excited to bring you the Polar Express Event at our school and we know you will really enjoy this fantastic event. Please remember children will need a parent to attend with them. The tuc shop and bar will be open for waiting parents to fully enjoy the Christmas atmosphere. Santa Claus is very excited to be attending and he is looking forward to seeing all the happy faces and hearing all about your childrens wish lists. We will advise, via school life, when photos are ready to be picked up from the school office.
You will see the school being transformed from next Thursday as we get started on this very magical event. Can we please ask that children do not touch the decorations so we can use them for future events. These will stay up for the school 'Carol Service' we are holding later on in December within the school playground. Further information will also be coming out about this very shortly.
We look forward to seeing you on Saturday the 1st December for the Polar Express Event we have all been waiting for. The gates will open 30 minutes before each showing. Please arrive in plenty of time to get your child settled. Just a reminder that the showings are 2pm and 5pm. A huge thank you to those of you who have volunteered to assist us for the session(s). It wouldn't be possible without you all.
PTA REQUESTS FOR THE PARISH CHRISTMAS BAZAAR:
The St Ambrose Church Parish Christmas Bazaar is now on the horizon (Sunday 2nd Dec @ 12noon). The PTA are running the tombola and a few games stalls so do come along, but please can we ask for your support for donations of Chocolate's and Sweet's for the tombola. Any donations you can give, big or small, please hand them into the school office. Donations will be gratefully received up until Friday 30th November! Many thanks for your support!
YEAR 1 AND YEAR 2 SCHOOL TRIP:
Please can you bring in any outstanding consent forms and payment for the Year 1 and Year 2 school trip. The deadline is Wednesday 5th December so in order to secure your child's place on the trip please bring into school ASAP. Many thanks.
RECEPTION - YEAR 5 FLU VACCINATIONS:
Please can you ensure that you fill in and return the flu vaccination forms, regardless of whether you would like your child to receive it or not, before Tuesday 4th December.
The Parish 200 club is a major fundraiser for the Parish to help support the running of the Parish. Members contribute £2 a month (£24 a year) and there will be monthly drawers for cash prizes. Application forms for new members will be avaliable from the School Office next week.
This months draw will take place during Monday morning assembly in school.
Congratulatations to Aidan O'Reilly in Year 5 on his presentation from the Catholic Men's Society at the end of Mass for Deceased Brothers on Wednesday 7th November. He was presented with rosary beads which Father Lamb had blessed and also a commemorative card for his forthcoming conformation as a thank you for serving Masses reliably and conscientiously.
REMEMBERING THOSE WHO HAVE DIED IN NOVEMBER:
During November we have been remembering all those who have died. This week we have kept James' dad and the Baker family in our thoughts and are remembering them in our prayers.
PLEASE CAN WE ASK THAT YOU DO NOT USE THE CAR PARK AT DROP OFF AND PICK UP TIMES AS IT IS DANGEROUS AT THESE BUSY TIMES.
Sacraments:
| | |
| --- | --- |
| 4th December | Y6 Confirmation 7pm |
Parish/School Masses - Wednesday 9:15am
| | |
| --- | --- |
| DATE | YEAR GROUP |
| | |
| 28th November | Y3 |
Class Assemblies:
| | |
| --- | --- |
| DATE | YEAR GROUP |
| | |
| 30th November | Y5 |
Confirmation Meetings:
| | |
| --- | --- |
| 28th November | 5th Meeting |
Other Events:
| | |
| --- | --- |
| DATE | EVENT |
| 17th December | KS1 Nativity Dress rehearsal pm |
| 18th December | KS1 Nativity pm |
| 19th December | KS1 Nativity am |
| 20th December | Parish and KS2 Carol Concert 7pm |
| | | |
| --- | --- | --- |
| Year Group | This Week | This Term |
| Whole School | 95.3% | 95.7% |
| Reception | 93.7% | 94.9% |
| Year 1 | 98.3% | 95.9% |
| Year 2 | 99.3% | 96.1% |
| Year 3 | 94.6% | 96.0% |
| Year 4 | 98.6% | 95.8% |
| Year 5 | 83.7% | 95.5% |
| Year 6 | 97.3% | 95.7% |
Well Done to everyone who received a certificate this week.
| | |
| --- | --- |
| YEAR GROUP | MESSAGE |
| WHOLE SCHOOL | CAN WE KINDLY ASK THAT WHEN MAKING PAYMENT TO SCHOOL YOU PUT THE MONEY INTO AN ENVELOPE CLEARLY LABELLED WITH YOUR CHILD'S NAME AND YEAR GROUP AND WHERE POSSIBLE, BRING IN THE EXACT CHANGE. THIS PREVENTS ANY DISCREPANCIES. THANK YOU. |
| RECEPTION | Can you ensure all children's uniform is clearly labelled with their name. |
| | Just a reminder that only water is allowed in children's water bottles for school. |
| YEAR 1 | Please could parents check their child is wearing the correct jumper. We have a missing jumper in Year 1 and it is named. Please ensure all items of uniform and PE kit are clearly named. |
| | Please support your child by reading regularly at home and recording in their record book to earn their house points. |
| | Homework books are due in on Mondays. |
| YEAR 2 | P.E. kits must be in school on a Tuesday ready for their lesson. |
| | Please can you make sure your child is reading every day. |
| | Year 2 spellings are on a Friday. |
| YEAR 3 | Spellings and timetables will be on a Monday. |
| | Please can children ensure their PE kits are in school for Monday. |
| YEAR 4 | Please ensure that your child hasn't got their earrings in on P.E or swimming days or provide own tape to cover the earrings. |
| | Spelling: Ensure the children are using a dictionary in order to learn the meanings of the words given. |
| YEAR 5 | Year 5 will be filming with Mr Mallinson for our Pyramid Concert in February next Tuesday (27th Nov). Please can you help your child to find either a shirt they can pull the collar up on or a glittery/bright coloured top to wear during filming. The theme is DISCO and the clothes need to be brought into school either on Monday or Tuesday. Any problems please speak to Miss Holtom. Thank you. |
| | For our class assembly, the children are dressing up as evacuees so please help them to sort out their outfits and bring into school asap. |
| | If you have any small boxes that can be used to make gas mask boxes please can you send them into school so we can get making them for Friday's assembly. |
| YEAR 6 | Please make sure your child is using their CPG revision guides. |
We have places available in Reception, Year 3 & Year 5. If you know of anyone who would be interested please refer them to the school office in the first instance. Many thanks.
PARISH BABY AND TODDLER GROUP:
If you or anyone you know would be interested in going along to the Parish Baby and Toddler group, the sessions are held on a Wednesday from 9-11am. We welcome newborn up to pre-school children and their parents. Your first session will be free of charge and thereafter will be 80p. This cost includes refreshments for you and your child. They have an array of toys and activities for you and your child to enjoy and this is also a great opportunity to meet and socilaise with other families. If you have any enquiries please see the Facebook page 'St Ambrose Toddlers Kidderminster'.
SEVERN ARTS MUSIC LESSONS:
Saturday 11:45am - 12:45pm, and by request.
Stars of the Week
Diary Dates
Attendance
Class Assemblies