| | |
| --- | --- |
| HOUSE | HOUSEPOINTS |
| Ashley | 409 |
| Leveson | 346 |
| Oldcorne | 188 |
| Wall | 248 |
Thank you for all of your support, for the way we dealt with the snow. I'd like to thank the staff from our school for their efforts in getting the school open and in a safe condition. After the snow, we were straight back into our festivities as everyone thoroughly enjoyed our Christmas lunch last Thursday.
49 pupils attended school every day this term and have gained 100% attendance. Well Done Everyone
NATIVITY AND CAROL SERVICE
Last week, our Key Stage 1 classes and Reception class helped to put us all in the Christmas spirit with their spectacular Nativity performance, both in the morning and in the afternoon! This was followed later in the week with KS2 carrying out a wonderful Carol Concert at St Ambrose's Church. It was a fantastic turn out and the children were a credit to the school. I would like to say a big thank you to all of the staff for their hard work in putting all the performances together from Reception right through to Yr6.
Miss Ballard rewarded the hockey club on Friday for their hard work and commitment to training with a Christmas party- well done everyone.
DECORATING THE PARISH CHRISTMAS TREE
Yesterday four Year Six pupils were invited to join some parishioners to decorate the tree in Church. We are thrilled to let you know that the school Christmas tree with the children's prayers on it will be moved to the Church foyer on Wednesday. This will enable the parishioners to read our thoughtful prayers.
Staff and pupils have been getting festive and working hard on their maths skills this week. Each class had a £20 budget to make products to sell to pupils and parents at the fair. The products included elf selfies, reindeer hot chocolate and Christmas brownies. Profits from the market will be spent on reading books for the school. Mrs Sherwood organised the market to raise the profile of maths in school, with children having to use and apply maths skills in order to work out costs and profits.
As you can see we had a fantastic display of festive jumpers today.
In January the Reception Class will be in their new classroom so please bring Reception Children to the main gate at the start of the day.
The Star Assembly yesterday celebrated the children who were stars on Friday 8th December.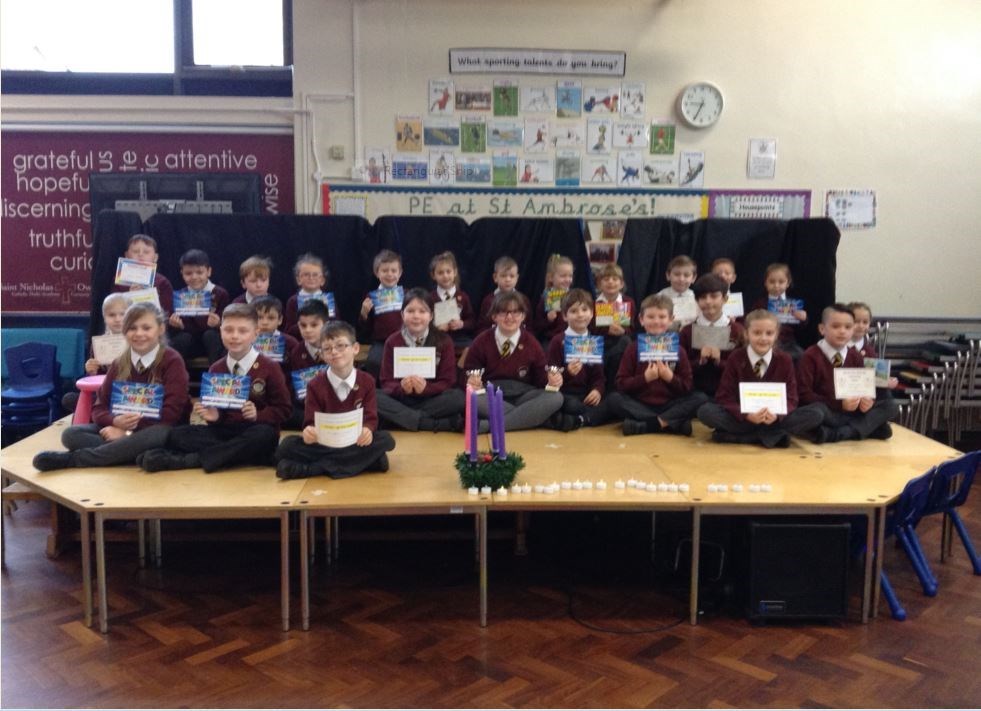 The next Star Assembly will be on Monday 15th January at 9.10am
PARENT ACADEMY REPRESENTATIVE
Today you will have received a letter and a ballot form to place your vote for a Parent Academy Representative by Tuesday 16th January. We are really pleased to inform you that we have three candidates and we would like to thank each candidate who has taken the time to prepare their statement for you to read.
I would like to wish you all a happy, peaceful and holy Christmas from everyone at Saint Ambrose's School and we look forward to welcoming you back on Wednesday 3rd January 2018!!
Saturday 11:45am - 12:45pm, and by request.
| | |
| --- | --- |
| DATE W/C | ALTAR SERVERS |
| December 18th | Matthew C and Max C |
| | | |
| --- | --- | --- |
| Thursday | Choir | THERE WILL BE NO CHOIR NOW UNTIL THURSDAY 11TH JANUARY 2018 |
| | | WE WILL NOTIFY YOU IN THE NEW YEAR OF AFTER SCHOOL CLUBS |
For anyone whose children are due to start school in September 2018 you must make your application online by 15th January 2018.
We have places available in Year 2, Year 3, Year 4 & Year 6. If you know of anyone who would be interested please refer them to the school office in the first instance. Many thanks.
All classes have been given login's for 'Oxford Owl', a website where they can read books online for free.
Please encourage your child to use this resource to read a wide range of books at home.
Stars of the Week
Diary Dates
Attendance
Class Assemblies