Date: Friday 16th November
PLEASE SUPPORT THE PARISH CHRISTMAS BIZARRE ON SUNDAY THE 2ND DECEMBER.
HALF PRICE THANK YOU BOOK FAIR:
In the lead up to Christmas, as a thank you for all your support with previous book fairs and for supporting the PTA to raise money for home school reading books, I have arranged for a half price book fair to be held in school the first week in December (3rd-6th December). Please come along and purchase some great books to encourage your child(ren) to have a love of reading and to help raise more funds for school to help with our ongoing library fund. Thank you.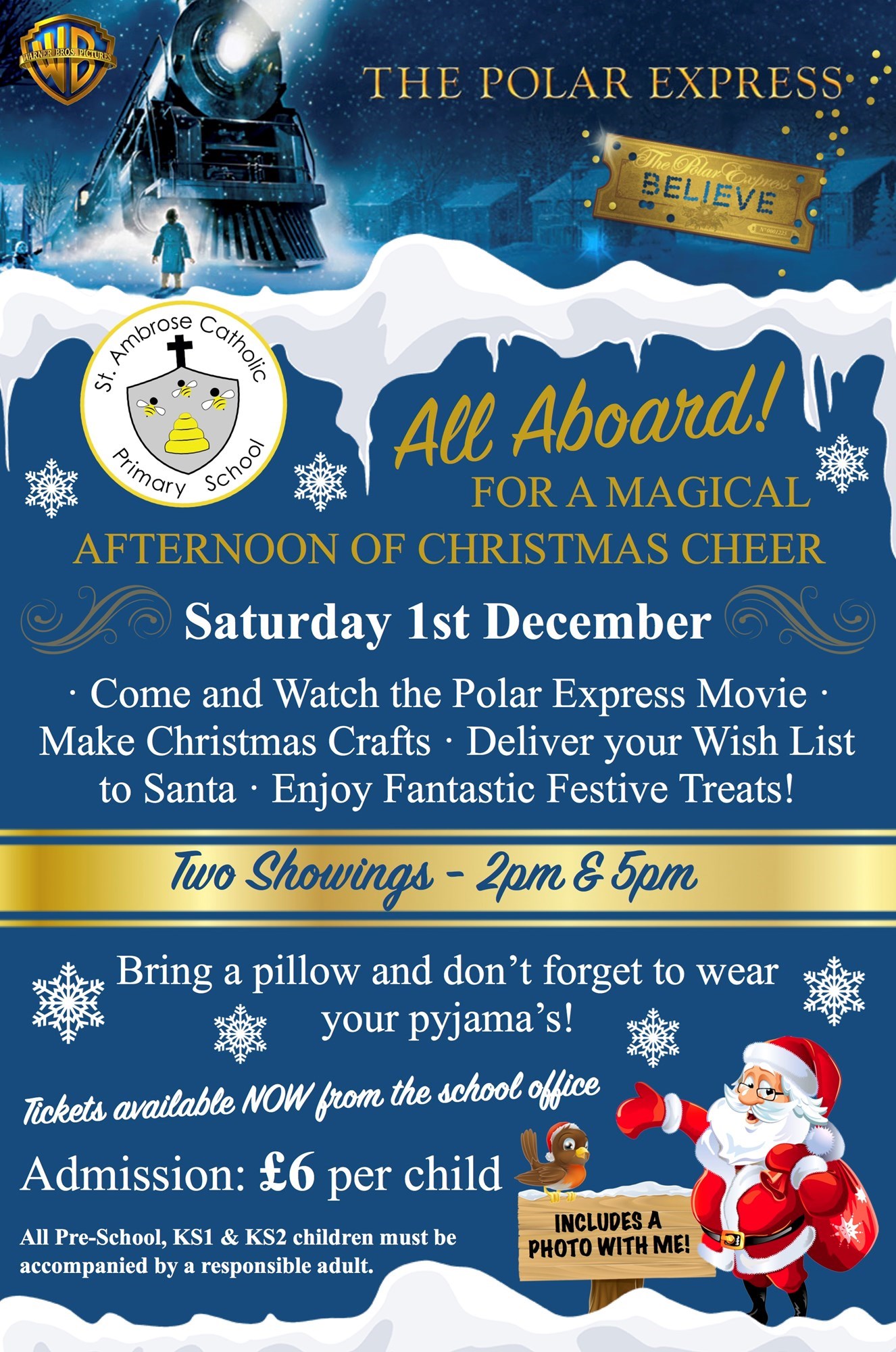 We are pleased to announce the Polar Express event is now ready to go.
The event is on Saturday 1st of December with two showings - 2pm & 4:30pm. The school will be looking its very best with a true Christmas atmopshere provided by the PTA which is not to be missed - the school gates will be open 30 minutes before the film starts. We kindly ask that all children attend in their PJ's to feel the full magical experience the movie has to offer. Tickets will be £6 per child which includes a memorable photo for them to keep. Tickets will be available to buy from the office - please ensure the correct amount of money is given in an envelope with your child/children's name on the front as no change will be available from the office. Please remember to bring the magic ticket with you on the day. Santa will be there along with our very own school photographer, Miriam; Santa will be avaliable for a visit after the film finishes. All the children will receive a hot chocolate, a cookie & a candy cane.
Can we ask that all children are accompanied by an adult. The reindeer tuck shop will be available at the back of the train with extra treats to buy including popcorn, drinks and snacks. For the parents, we will have our very own train bar providing the usual festive treats such as mulled wine, Baileys hot chocolate, beer, soft drinks and hot drinks, a chocolate fountain and mince pies. The Christmas music will be playing and a great atmosphere is definitely guaranteed. So please come and join us for a truly great Christmas event and kick your Christmas off with an amazing magical experience.
As always we require a little help so if you fancy assisting on the day please get in touch with us at the PTA, the office or our Facebook page at St. Ambrose Primary School PTA. It's all only possible with a full amount of volunteers. Thank you for your continued support and we look forward to seeing you at the St Ambrose Polar Express event.
PTA REQUESTS FOR THE PARISH CHRISTMAS FETE:
The St Ambrose Church Parish Christmas Fayre is now on the horizon (Sunday 2nd Dec @ 12noon). The PTA are running the tombola and a few games stalls so do come along, but please can we ask for your support for donations of Chocolate's and Sweet's for the tombola. Any donations you can give, big or small, please hand them into the school office. Donations will be gratefully received up until Friday 30th November! Many thanks for your support!
This week has been a busy week for children with numerous sporting activities happening. Thank you to all parents who have helped give lifts to and from events. Pictures are to follow.
PLEASE CAN WE ASK THAT YOU DO NOT USE THE CAR PARK AT DROP OFF AND PICK UP TIMES AS IT IS DANGEROUS AT THESE BUSY TIMES.
Sacraments:
| | |
| --- | --- |
| 18th November | Y6 make their Confirmation commitment at Mass 11am |
| 4th December | Y6 Confirmation 7pm |
Parish/School Masses - Wednesday 9:15am
| | |
| --- | --- |
| DATE | YEAR GROUP |
| | |
| 21st November | Y4 |
| 28th November | Y3 |
Class Assemblies:
| | |
| --- | --- |
| DATE | YEAR GROUP |
| | |
| 30th November | Y5 |
Confirmation Meetings:
| | |
| --- | --- |
| 28th November | 5th Meeting |
Other Events:
| | |
| --- | --- |
| DATE | EVENT |
| 17th December | KS1 Nativity Dress rehearsal pm |
| 18th December | KS1 Nativity pm |
| 19th December | KS1 Nativity am |
| 20th December | Parish and KS2 Carol Concert 7pm |
| | | |
| --- | --- | --- |
| Year Group | This Week | This Term |
| Whole School | 95.3% | 95.8% |
| Reception | 96.7% | 95.0% |
| Year 1 | 95.3% | 95.6% |
| Year 2 | 94.7% | 95.8% |
| Year 3 | 95.4% | 96.1% |
| Year 4 | 97.2% | 95.5% |
| Year 5 | 92.2% | 96.7% |
| Year 6 | 95.3% | 95.5% |
We have places available in Reception, Year 3 & Year 5. If you know of anyone who would be interested please refer them to the school office in the first instance. Many thanks.
PARISH BABY AND TODDLER GROUP:
If you or anyone you know would be interested in going along to the Parish Baby and Toddler group, the sessions are held on a Wednesday from 9-11am. We welcome newborn up to pre-school children and their parents. Your first session will be free of charge and thereafter will be 80p. This cost includes refreshments for you and your child. They have an array of toys and activities for you and your child to enjoy and this is also a great opportunity to meet and socilaise with other families. If you have any enquiries please see the Facebook page 'St Ambrose Toddlers Kidderminster'.
SEVERN ARTS MUSIC LESSONS:
Saturday 11:45am - 12:45pm, and by request.
Stars of the Week
Diary Dates
Attendance
Class Assemblies