Date: Friday 1st December
| | |
| --- | --- |
| House | Number of Housepoints |
| Ashley | 428 |
| Leveson | 423 |
| Oldcorne | 333 |
| Wall | 428 |
Congratulations to all our star learners this week.
Saint Ambrose's is continuing to focus on attendance and punctuality and we continue to expect children's attendance to be at 96%-this is in line with government expectations.
THANK YOU SO MUCH to those families who have been working hard to ensure children's punctuality and attendance is high. THANK YOU for getting these important habits established early on in your child's life as it will make a difference in their futures and we really do appreciate that you send your children into school, come rain or shine.
There is a link between attendance and achievement and therefore it is very important that your child is at school every day. All children who have 100% attendance for the Autumn Term will receive a selection box on Tuesday 19th December.
Father Lamb celebrated Mass on Wednesday with Reception and Years 1-3. As always, it was a lovely occasion and the children wowed Father with their knowledge of the Liturgical Calendar. Father Lamb explained to us that Advent is a time of waiting and preparation.
In Assembly today, we learnt that Sunday's Gospel reminds us to look into our hearts and see if there are any ways that we could make a change for the better. We had lots of ideas so please ask your son or daughter to share their idea.
Next Thursday, on the 7th December at 7pm some of our Year Six children will receive the Sacrament of Confirmation at St Ambrose's Church on Saint Ambrose's Day. Everyone is welcome to join us.
You have all taken this very special step and we all wish you well on your faith journey.
I am delighted to let you know that Millie C in Year 4 has a part in 'Cinderella' at the Artrix Theatre in Bromsgrove on 16th-18th and 20th-23rd December. This week I was very impressed by Christopher P in Year 6 who has reminded pupils that they can use the friendship stop at play times. I would like to wish Megan O in Year 5 good luck as she is dancing at the Winter Gardens in Blackpool this weekend. Also, a big well done to Harley V who has acheived his Level 4 Learn to Swim badge!
PARISH CHRISTMAS FAIR -' TIS THE SEASON TO BE JOLLY
Many thanks for all the contributions towards this year's Parish Christmas Fair on Sunday 3rd December. I look forward to seeing you all at the Fair. As I am sure the children have told you, we have been invited to sing carols around the Christmas tree at 1pm. Everyone is welcome-don't forget to wear your Christmas jumper!
We will be having 'Christmas Jumper Day' on Tuesday 19th December. Please send your child to school wearing their own clothes and their Christmas jumper or something festive!!
CHRISTMAS CONCERTS AND A CELEBRATION OF CHRISTMAS SONG SERVICE
We look forward to seeing you all at either our Christmas Concerts or our Celebration of Christmas Song Service so please put a date in your diary.
| | | |
| --- | --- | --- |
| Date/Time | Event | Location |
| Tuesday 12th December at 9.30am | KS1 Nativity Play | School Hall |
| Wednesday 13th December at 2pm | KS1 Nativity Play | School Hall |
| Wednesday 13th December at 6pm | KS2 Celebration of Christmas Song Service | Church |
| Thursday 14th December at 1.30pm | KS2 Celebration of Christmas Song Service | Church |
TICKETS FOR THE CHRISTMAS PRODUCTION ARE NOW AVAILABLE FROM THE SCHOOL OFFICE. THE ALLOCATION IS 2 TICKETS PER CHILD FOR ONE PERFORMANCE ONLY. WE WILL ALSO HAVE A WAITING LIST FOR PARENTS WHO REQUIRE EXTRA TICKETS.
On Tuesday 5th December we will be taking part in a sponsored fitness circuit led by Eden Francis , as we want to unleash all the champions at Saint Ambrose's. Eden started athletics at the age of 10 when her mother took up coaching. Having tried a multitude of events from running and jumping she finally found her calling, throwing. In 2004, at just 15, she was awarded her first England vest and later that season her first GB vest. From there she went from strength to strength topping rankings and competing in competitions such as the Commonwealth Youth Games and World Youth championships.
After breaking the British U20 record in 2007, 2008 saw her become the first Brit to win Gold in the discus at the winter throwing cup. In 2009, she again made history by becoming the first British woman to win gold at the European U23 championships. That year she also gained her first senior GB vest.
Since then she has repeatedly topped British rankings and claimed numerous British Championship medals. Her latest achievement was making the final top 8 in both the shot and discus at the Glasgow Commonwealth Games and winning Gold at the UK indoor championships.
Her long term goal is to become a multiple Olympian, Rio 2016 is just the begining!
IF YOU HAVE NOT RETURNED YOUR SPONSORSHIP FORM, PLEASE RETURN IT BY MONDAY. THANK YOU
Thank you to everyone who has sent in their donation for the food hamper. We will donate the hampers to a food bank in time for Christmas. Please remind your son or daughter to bring in their item on their allocated day.
CONSULTATION ON ADMISSION POLICY 2019-20
Our School has reviewed and updated our Admissions Policy for 2019-20 for which the consultation period runs from Friday 24th November 2016 to Friday 5th January. The draft 2019-20 policy can be viewed on the school website by selecting Parents' Information then Admissions
Below you can see the proposed change highlighted in red.
In addition to their right to appeal, children who have not been offered a place at Saint Ambrose's Catholic Primary School but were offered a school that was ranked as a lower preference on their application form will be added to a waiting list. The waiting list will be maintained until the last day of the summer term 2020 and will then be discarded.
If you wish to read the draft 2019-20 policy and raise any objections or queries, your responses should include your full name, title and contact details. Please address your correspondence to Mr Michael Burford, Clerk to Academy Committee at the school address or by email to stambroseclerk@gmail.com by Friday 5th January.
Saturday 11:45am - 12:45pm, and by request.
| | |
| --- | --- |
| Week Commencing | Name |
| | |
| 4th December | Luke C and Edward M |
| 11th December | Finn R and Thomas B |
| 18th December | Matty C and Max C |
WE WILL BE HAVING A WHOLE SCHOOL MASS FOR ST. AMBROSE'S FEAST DAY IT WILL BE HELD ON WEDNESDAY THE 6TH DECEMBER AT 2.15PM IN CHURCH. WE WARMLY INVITE YOU ALL TO ATTEND. ONLY KS2 WILL ATTEND MASS AS KS1 WILL BE ON THEIR SCHOOL TRIP.
| | | |
| --- | --- | --- |
| Monday | Multi-Sports | 3.15 - 4.15pm |
| Monday | Sports leader | 3.10 - 4.10pm |
| Tuesday | Football | 3.10 - 4.10pm |
| Thursday | Choir | 3.10 - 4pm |
| Friday | Hockey | 3.10 - 4.15pm |
CHOIR WILL BE BACK ON AS NORMAL ON THURSDAY 7TH DECEMBER.
RECEPTION, YEAR 1, YEAR 2 LITTLE OWL FARM TRIP
FOR THE TRIP CAN YOU PLEASE SEND YOUR CHILD INTO SCHOOL WEARING SCHOOL JUMPER, SHIRT AND TIE ON TOP AND TRACKSUIT BOTTOMS/LEGGINGS WITH SENSIBLE FOOTWEAR I.E TRAINERS OR WELLIES.
At this week's school council meeting the children have discussed re-vamping the tyre area and each class having a tyre to plant flowers in and they also discussed the suggestions from other pupils that had been put into the suggestion box.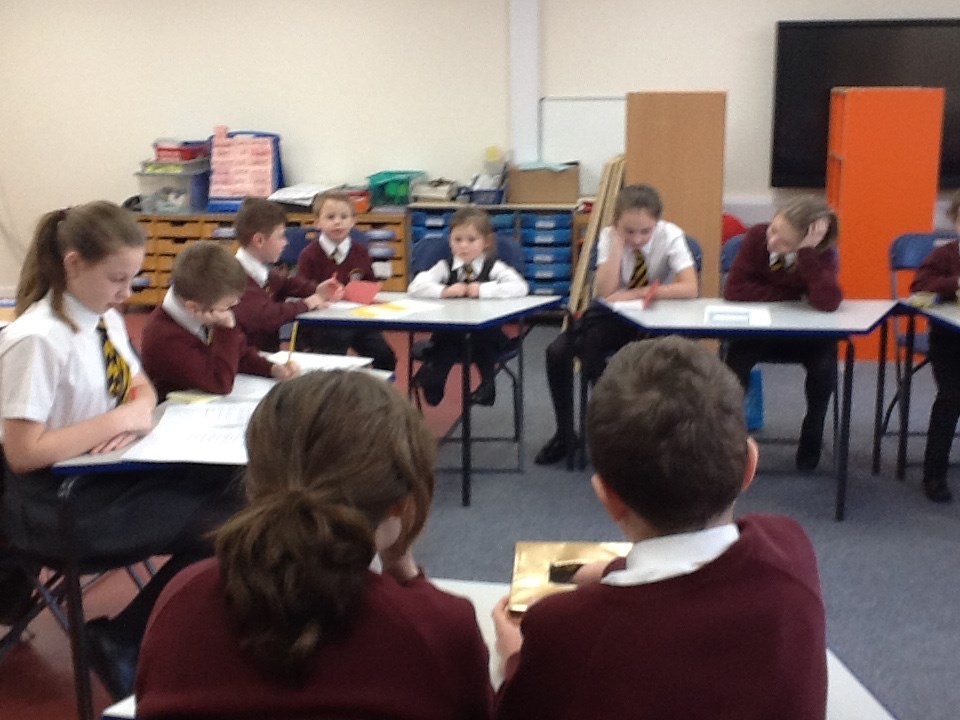 TODAY WAS THE LAST DAY FOR CHRISTMAS LUNCH ORDERS. IF YOU HAVE NOT RETURNED THE SLIP WITH THE MONEY THEN YOU WILL HAVE TO MAKE ALTERNATIVE ARRANGEMENTS FOR YOUR CHILD'S DINNER ON THE DAY OF WEDNESDAY 12TH DECEMBER.
Please can you ensure that your child has their coat in school at all times during the winter months.
In the event of adverse weather conditions please listen to local radio and check the school website for information on school closures.
For anyone whose children are due to start school in September 2018 you must make your application online by 15th January 2018.
We have places available in Year 2, Year 3, Year 4 & Year 6. If you know of anyone who would be interested please refer them to the school office in the first instance. Many thanks.
If you would like your child to receive the flu vaccination at school please bring in your completed form before Friday 8th December.
Please encourage your child to read at home by using the 'Oxford Owl' it has a wide range of books for your child to read at home. All of the children have been sent home with their logins at the beginning of term.
Stars of the Week
Diary Dates
Attendance
Class Assemblies