DATE: Friday 1st February 2019
On Friday 25th January the St Ambrose School Choir went to Birmingham Genting Arena for the Young Voices Concert. There were 18 of them but almost 7,000 children and teachers altogether! They sang lots of songs, did dances and also got to see professional singers and dancers perform.
"I loved the songs because they were fun and we got to dance at the same time" - Lilly B
"I loved Young Voices because it was such a nice day!" - Lilli-Rose C
"I loved the dancers because they were very good and very cool." - Oscar C
I loved singing and dancing all day because it was just so much fun!" - Natalia H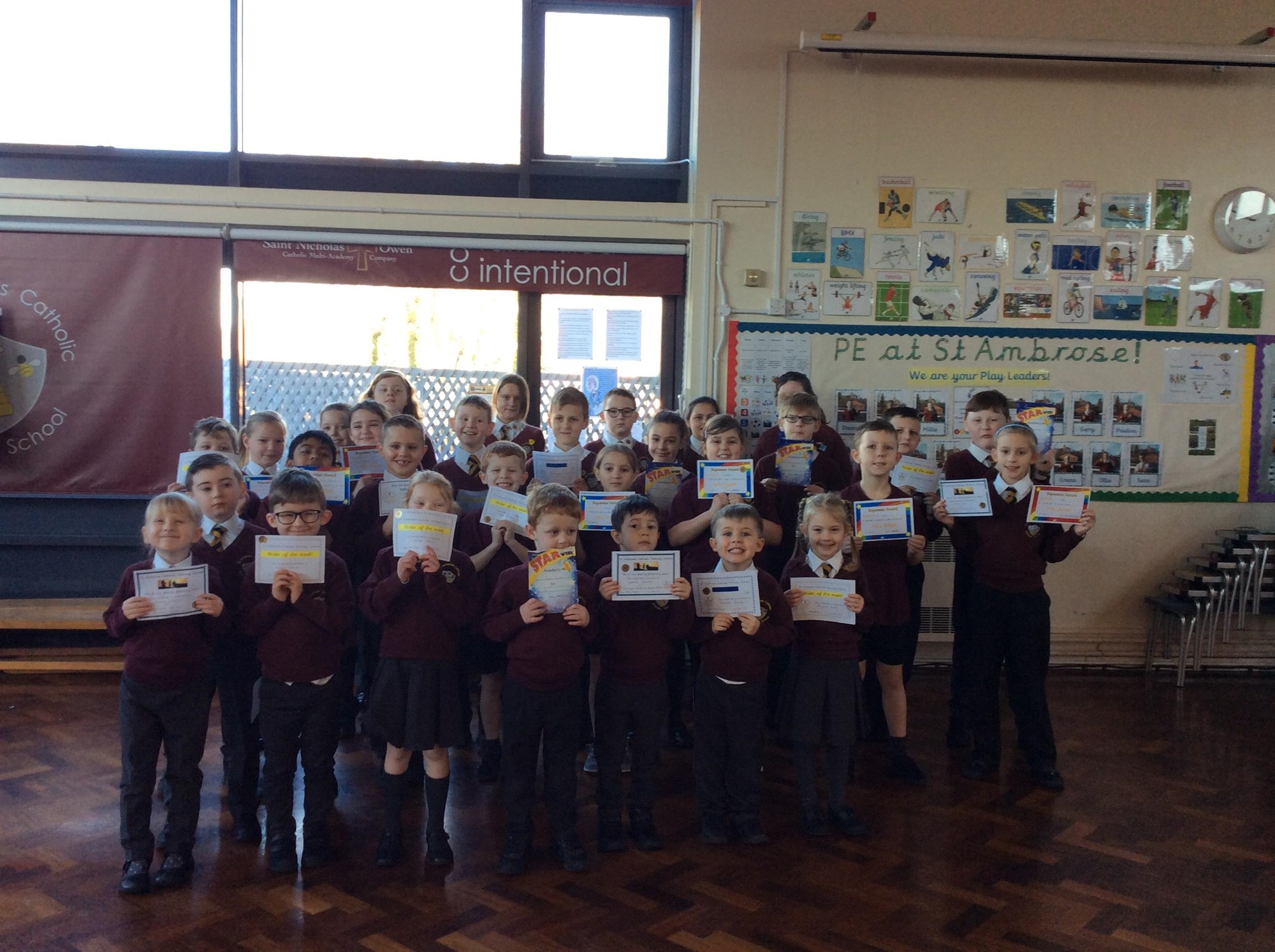 Well done to everyone who received a certificate this week. The next Celebration Assembly will be Monday 4th February.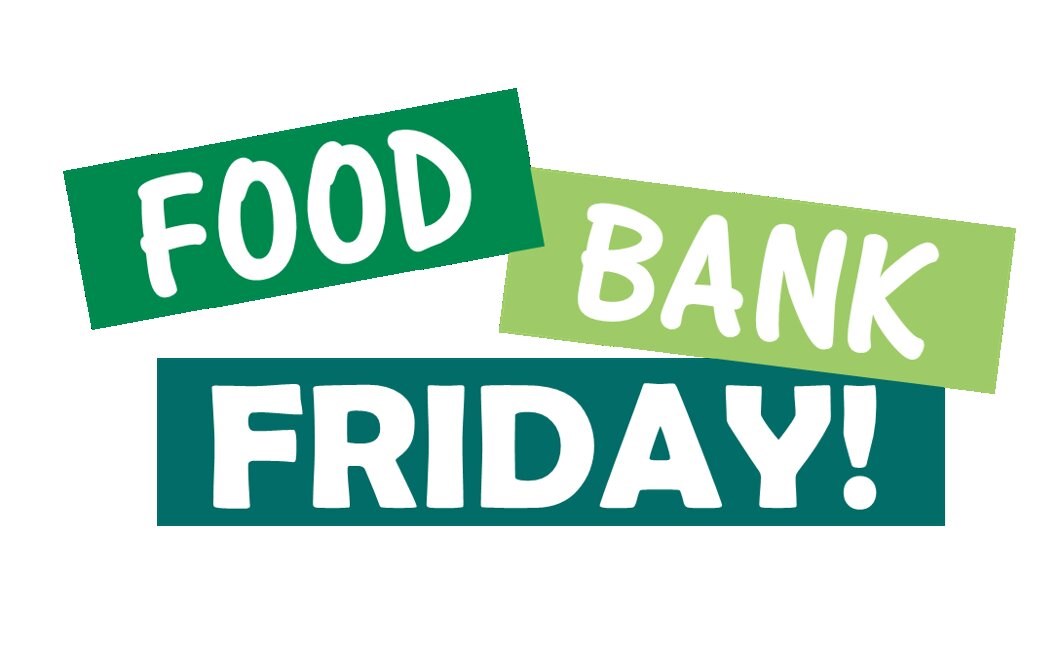 The Junior SVP will be collecting tins or packets of food every Friday which will be donated to Kidderminster Food Bank. Please hand any contributions you leave each week to your child's class teacher. Thank you for your generous support for this worthy cause.
Reception children will be celebrating the Chinese New Year on Tuesday 5th February. They will be having a party in the afternoon tasting Chinese food. Please let Miss Brewer know of any allergies. Thank you.

We are pleased to announce a Craft Club will be running on Friday 8th February from 3:10pm until 4:10pm. We still have 5 places left for this club so if you would like your child to attend please contact the school office. We hope that the children will really enjoy themselves. Should you wish to stay and have a seat in the back please feel free however, you don't have to. Children can come straight from their class to the school hall where we will begin at 3:10pm. If we find the Craft Club to be successful we will take this forward as a regular club in the future. Thank you as always on behalf of the PTA and we look forward to seeing your children on Friday 8th February.
If you would like to save on fuel and parking costs and reserve a seat on the coach travelling to and from the Pyramid concert please speak to the school office in order for them to reserve a seat for you. The total cost for the return journey is £5.
Additionally, if there are any parents or friends/family of parents who have their own business and would like to purchase an advertising slot in the programme for our upcoming Year 5 Pyramid Concert please contact Mr Mallinson at fmm5@hagleyrc.worcs.sch.uk.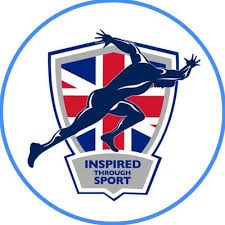 Keep checking the newsletter for further information about Inspired Through Sport.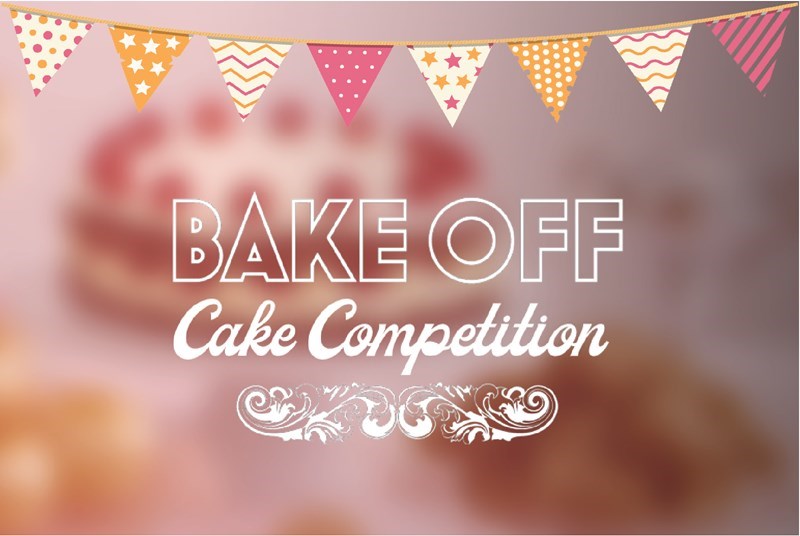 Year 5 will be holding a 'Bake Off' Competition on Friday 1st March for KS1 and KS2. The aim is to raise money for the charity, Shelter, who look after the homeless. Judging will be held on the day and there will be prizes for the most creative cake. Join us after school for coffee and cake where the cakes will then be auctioned off.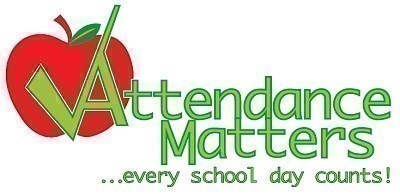 | | | | |
| --- | --- | --- | --- |
| Year Group | This Week | This Term | This Year |
| Whole School | 94.7% | 95.2% | 95.2% |
| Reception | 89.3% | 92.2% | 94.3% |
| Year 1 | 92.7% | 93.3% | 95.1% |
| Year 2 | 92.0% | 95.3% | 95.6% |
| Year 3 | 96.4% | 94.9% | 95.3% |
| Year 4 | 99.3% | 95.9% | 95.2% |
| Year 5 | 97.4% | 97.0% | 95.7% |
| Year 6 | 95.7% | 97.5% | 95.4% |
Good attendance is very important to us here at St Ambrose Catholic Primary School and we are working hard to make sure that all children attend school as often as possible. Our school target is 96%. We understand that children cannot help being ill, but we would urge parents to do their best to ensure that medical and dental appointments are made for outside of school hours. Below is a table highlighting how time off affects a child's learning: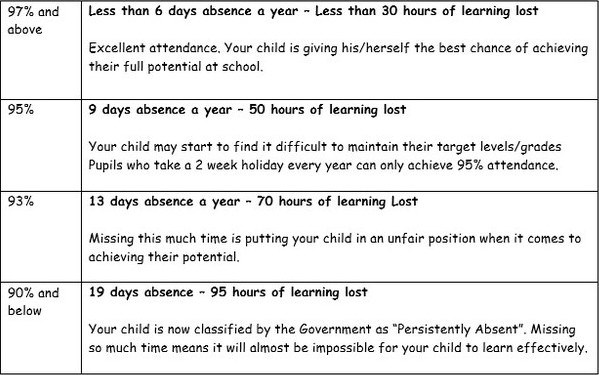 Friday 8th February
Wednesday 13th February
Please contact the school office if you would like to come to a drop in session. Also remember appointments on a 1-1 basis can be arranged with Mrs Price - this can also be done via the School Office.
Please can all parents/carers check that their child has not brought home a coat that doesn't belong to them. One of our Year 5 boys is missing his warm, black coat and his name is clearly marked in it and we would be grateful if it could be returned to school next week. Thank you.
A MESSAGE FROM CLASS CATERING:
Class Catering have kindly asked that any lunch orders are ordered in advance and not on the day that a lunch is required. Many thanks.
PLEASE CAN WE ASK THAT YOU DO NOT USE THE CAR PARK AT DROP OFF AND PICK UP TIMES AS IT IS DANGEROUS AT THESE BUSY TIMES.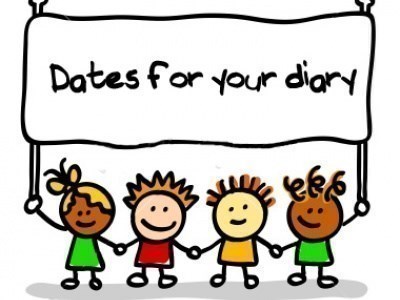 Holy Communion Meeting Dates for Year 3:
(All meetings will take place at 6.30pm in the School Hall)
| | |
| --- | --- |
| Wednesday 13th February | Initial Meeting for Parents |
| Thursday 14th March | Meeting 1 for Parents and Children |
| Wednesday 3rd April | Meeting 2 |
| Thursday 11th April | Meeting 3 |
| Wednesday 8th May | Meeting 4 |
| Wednesday 15th May | Meeting 5 |
| Wednesday 22nd May | Meeting 6 |
| Wednesday 5th June | Meeting 7 |
| Saturday 22nd June | 12:00pm Holy Communion Day |
Whole School Mass:
Parish/School Family Masses - Sunday 11:00am
| | |
| --- | --- |
| 10th February | Family Mass: KS2 |
| | |
Parish/School Masses - Wednesday 9:15am
| | |
| --- | --- |
| DATE | YEAR GROUP |
| 6th February | Year 3 |
| 27th February | Reception, Year 1 and Year 2 |
Other Events:
| | |
| --- | --- |
| DATE | EVENT |
| 14th February | Year 5 Hagley Pyramid Concert |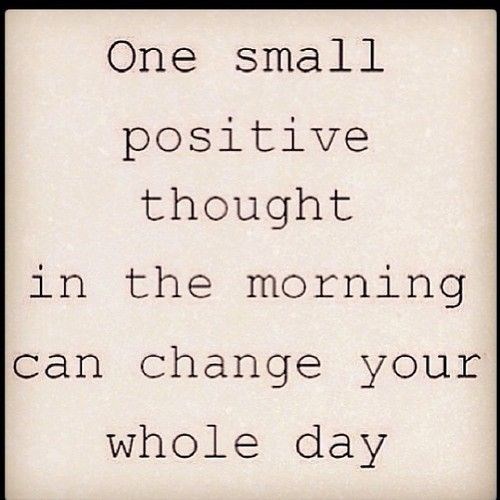 We have places available in Reception, Year 3 & Year 5. If you know of anyone who would be interested please refer them to the school office in the first instance. Many thanks.
Please see attached the rota for Altar Serving. Thank you.
The Parish 200 club is a major fundraiser to help support the running of the Parish. Members contribute £2 a month (£24 a year) and there will be monthly drawers for cash prizes. Application forms for new members are now avaliable from the School Office.
PARISH BABY AND TODDLER GROUP: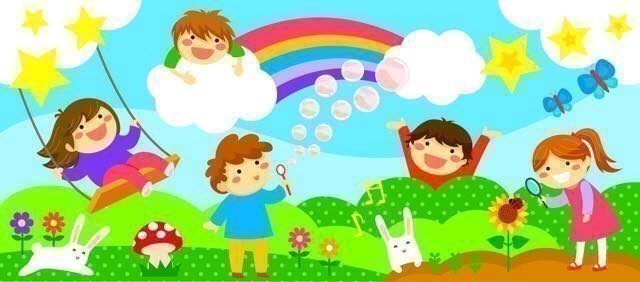 If you or anyone you know would be interested in going along to the Parish Baby and Toddler group, the sessions are held on a Wednesday from 9-11am. We welcome newborn up to pre-school children and their parents. Your first session will be free of charge and thereafter will be 80p. This cost includes refreshments for you and your child. They have an array of toys and activities for you and your child to enjoy and this is also a great opportunity to meet and socilaise with other families. If you have any enquiries please see the Facebook page 'St Ambrose Toddlers Kidderminster'.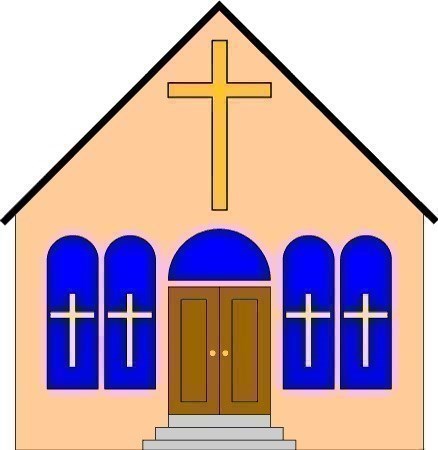 Saturday 11:45am - 12:45pm, and by request.
Stars of the Week
Diary Dates
Attendance
Class Assemblies