[~sys:articlelist(08bb7ebc-9716-4336-a5b7-346ca122ffc8,about-us)~] [~sys:articlelist(66781c49-af32-4646-af88-3077ff966668,our-community)~] [~sys:articlelist(4ffa5e3c-259c-4c2c-b28c-b2214c49371c,catholic-life)~] [~sys:articlelist(90ceaa1a-b7c0-4993-89a0-d5c386ddeca4,key-information)~] [~sys:link(699ea292-84c6-4262-b1be-819f355a35eb,contact-us)~]
TAPP: Teachers and Parents Partnership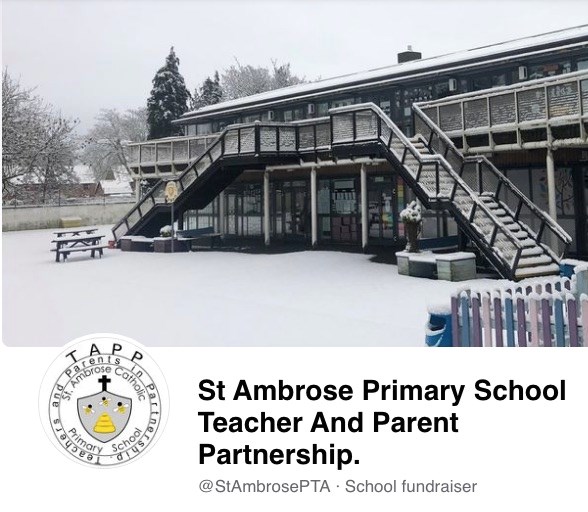 Please follow us on our Facebook page to keep up to date with events and meetings that are taking place. Click on the link below:
We are a registered charity ran by teachers and parents working in partnership for the benefit of our pupils. We help provide all those little extras that enhance the children's lives in school.
All parents automatically become members of the association when their child joins the school. The social and fundraising events organised by the Committee continue to provide children with enrichment activities and money for much needed resources. Fundraising events also provide an opportunity for parents, staff & pupils to get to know each other better.
Throughout the year, different events take place to raise money for our wonderful school, such as:
Discos
Summer fetes & Christmas fayres
Coffee afternoons
Bake Sales
Friday Tuck Shops
Collecting old mobile phones and printer cartridges
Using 'Everyclick', a search engine
Donating clothes, shoes, books and DVDs to 'Ragtex'
Coming along to meetings is a good way to find out what is being planned and is a chance to have your say, make suggestions and share new ideas.
You can also help by: running the tuck shop; running a stall at the fete; taking part/helping at cake sales; selling raffle tickets to name but a few. Even giving up 30 minutes to set up or clear up after an event is invaluable to TAPP and the school- and of course you can simply support events by attending to join in the fun.
We understand time is precious, but even the smallest amount of time you can give is always appreciated.
Supporting our donation requests also play a very big part in our fundraising efforts and we are always grateful for the money raised or prize donations received on mufti days. The pound that each child brings in for mufti day might not seem a lot, but collectively goes a long way in what we are seeking to do for our children and school.